Repairing a shoddy credit report requires time, but there are few steps you can take to expedite the process. Here's what to do if you're hoping to give your score a boost FAST.
Pay down credit card debt.
One of the only surefire ways to give your credit score a quick boost is to pay down any existing debt you may be carrying on a credit card. This will have an immediate (and positive) impact on your credit utilization ratio, which essentially involves how much credit you are using versus how much is actually available to you.
Keep in mind, the move will only work if you pay down the debt then refrain from running up a big balance on the card. Issuers report current balances along with your payment status on a monthly basis so it won't take long for these new charges to catch up to you.
Check your credit report.
Errors on credit reports are actually more common than you may think so combing over your credit report can benefit your score if it is indeed being pulled down by someone else's negative information. If it isn't, the exercise can be instrumental in illustrating what you need to do to improve your creditworthiness. Most versions of reports point out what items are particularly detrimental to the person's score.
Everyone is entitled to a free credit report from one of the major bureaus – Experian, Equifax or Transunion – each year, which can be obtained by visiting www.annualcreditreport.com.
Commit yourself to making all your payments on time.
A first missed payment can cause a great credit score to fall 100 points or more. The good news is, so long as you don't follow up this misstep with an even bigger one, you won't feel the full effect for the entire seven years it takes the line item to age off your credit report.  Begin to undo the damage by getting current on your payments and re-committing yourself to making all future ones on time.
To avoid unconsciously missing a due date, enroll in auto-pay by linking your credit card and debit card accounts. You also might be able to do enroll for these options via your issuer's iPad or mobile app.
Source: Credit.com (http://s.tt/1fMYx)
by: Huffington Post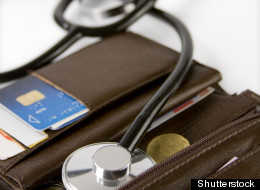 Are you carrying debt because of doctor's bills or medicine costs? If so, you're not alone.
Many low-and middle-income Americans are paying for medical bills with their credit cards, according to a recent survey conducted by a research and policy center called Demos. The survey sampled 997 adults in February and March who had carried credit card for at least three months to find an average debt of $7,145 with $1,678 attributable to medical costs. Almost 50 percent of American households bought out of pocket medical expenses on credit, the survey found. (h/t Bucks)
The survey results reflect the tremendous burden that rising medical expenses are inflicting on American families. Healthcare costs, which rose almost 6 percent in the past year, are forcing many Americans to go without needed medical care. More people are also living without any health insurance. Over 25 percent of Americans ages 16 to 64 went without health coverage for at least some part of last year.
Medical expenses are even taking their toll on families with comprehensive insurance plans. Insurance premiums are increasing, but offering less coverage. An ordinary family under a job-based health plan will spend more $20,000in healthcare costs this year. That's about 40 percent of the average household's income.
All this is exacerbated by an economy, in which wages haven't kept pace with rising prices. While the recession changed peoples' attitudes toward debt, making them more careful about spending and less likely to borrow money, many Americans don't have enough in their checking or savings accounts to pay for essentials.
Even though the average credit card debt reported this year decreased from its $9,887 level in the 2008, the percent of American families taking on credit card debt for spending related to necessities remains about the same as during the financial crisis. About two in five households used their credit cards for basic living expenses such as groceries and rent, according to the Demos survey.
Lenders Still Want Great Credit Scores for Mortgages
by: Credit.com
These days, many consumers are likely finding it easier to obtain many types of credit, as lenders have significantly slackened requirements for most loans and credit cards. However, the qualifications to obtain a good mortgage rate remain stubbornly high across the country.
Even as credit conditions improve significantly nationwide and many financial institutions are once again broadening lending efforts, many are still being extremely tight with financing for mortgages, according to a report from the New York Times. In fact, even as subprime lending for credit cards opens up considerably, many consumers with low credit scores will find themselves extremely unlikely to even be considered for a home loan approval.
A recent study by the Federal Reserve Board indicated that consumers with a credit score of 620 willing to make a 10 percent down payment are now less likely to be approved for a mortgage than they were in 2006, the report said. Further, some were even reticent to extend financing to borrowers making a similar down payment when their credit rating was 720.
This is because most lenders are still extremely gun-shy about lending large sums of money to anyone but the most qualified borrowers, the report said. In many cases, those who are approved for a home loan will also pay far higher rates on the mortgage than those who have top-notch credit scores, even as the average interest rate has hovered below 4 percent for some time now.
"If you don't have good credit, you're not going to get that crazy low rate," Deborah MacKenzie, the director of counseling at the Stamford, Conn., nonprofit the Housing Development Fund, told the newspaper.
Typically, the only way consumers can improve their credit ratings so that they can qualify for a home loan is by being smarter about managing their various lines of credit, including keeping credit card balances low and making all payments on time and in full. These are the two biggest factors comprised in a credit score. However, consumers can also be hurt by applying for too many new lines of credit within a short period of time, so avoiding this ahead of shopping around for a mortgage can be crucial to maintaining good credit health as well.
Source: Credit.com (http://s.tt/1cp3F)
Credit Report Repair
If you have any questions about your credit report or would like to find out how Credit Firm can help you improve your credit history and increase your credit score please contact us.
You've no doubt heard the advice many times: "Check your credit reports at least once a year to make sure they are accurate." It's good, solid advice worth heeding. But what happens when your credit info gets mixed up with someone else's and you can't seem to separate it? Or worse yet, if you check your credit reports and find no problems, but still get turned down for credit due to negative information?
The phenomenon is called "mixed files," and it can be very difficult to straighten out.
To learn more, I spoke with Jill Riepenhoff, a reporter for the Columbus Dispatch. Along with her colleague Mike Wagner, she recently conducted an in-depth investigation into credit report complaints. Following is an edited excerpt from my interview with Riepenhoff on Talk Credit Radio:
Who's Complaining?
This project had really organic beginnings for us though. A colleague of ours in the newsroom has had a long-time problem since 1994 trying to correct her credit report. She has been mixed with somebody who has a similar name and it's just year after year of frustration. When I heard this, I thought, "That is crazy. That doesn't happen."
The first thing that I did was go to the Ohio Attorney General's consumer website and I just put in the search terms of the big three credit reporting agencies. Immediately, I saw hundreds of complaints, and I thought there's probably something here. So that was really how this began, it was just a personal story from someone in our newsroom, and wondering whether it was an isolated case.
We sent public record requests to the Attorney General of all 50 states and then we also did a Freedom of Information Act request at the Federal Trade Commission which was the full regulator of the credit reporting agencies until last July when the new Consumer Financial Protection Bureau took over.
From the AGs, we were able to get complaints from about half the states. The others either wanted to charge us too much money or they weren't public records. A couple of states just completely ignored us.
Ignored and Frustrated
The number one theme that jumped out right off the bat was that these consumers, by the time that they were contacting the AG's office or the FTC, their concern was long ignored by the credit reporting agencies. Whatever the issue was, they could not get it corrected nor could they get anyone on the telephone at the credit reporting agency to help them.
I must say that these complaints (at least the ones from the FTC) were unverified. We don't know what happened. We can't say with 100% certainty that this was a legitimate complaint. But when you read the narratives of these, you just knew that there was something in there. Elderly people that were complaining because they didn't know how to use a computer, they wanted to get their credit reports, they couldn't get anybody on the phone to help them navigate the system. That's a credible narrative in my mind.
Mixed and Mismatched
(To understand how this happens), I kind of picture it a little bit like a library. It's not like there is a report that they picked out of the file cabinets that says "Jill Riepenhoff." What they do, is when a creditor orders a report it kind of searches through all the library shelves and looks in all the books and finds all the ones that look like they belong to Jill Riepenhoff.
Well when I order my credit report, they're pulling the books, if you will, that have my exact name, my exact address, my exact Social Security number, my exact date of birth, and typically they ask something about my account information: what's your mortgage payments or who's your car loan with or something like that. So, when the computer goes to pull the books off the shelf, they're only finding those accounts that exactly match the needed information.
When creditors do that, they have much looser standards. They don't have to ask for all that information, they can pull off the shelf based on a partial Social Security number or a partial name. So, like, we found situations where it was close enough. Myra could easily include information from somebody named Maria, for example. So the computers go in and pull all those books that look kind of close enough. Then, boom! You have a mixed report because you have Maria and Myra on the same report now. But that consumer won't see that because it's only going to pull the things that exactly match.
Your Worst Nightmare
One of the stories that we highlight in the series is the woman who went to buy a car in Colorado. And the week before she went to buy the car, she checked her credit report to make sure everything was in order. It was fine, she had a wonderful credit score. She even paid for the score to make sure that everything was above board.
She goes into the dealership. She even goes on her lunch break, thinking this is going to take that little amount of time. The next thing she knows, she's practically in custody in the car dealership because when the car dealership ran her credit report, the matching formula used said was on a terrorist watch list from the federal government.
It took her about six years (to straighten it out) and she had to file a lawsuit in order to make the damage go away. On her own, she could not convince the credit reporting agency that she was not the international drug trafficker who the alert was up against.
Source: Credit.com (http://s.tt/1cf3y)
by Credit.com
The rate at which consumers fell behind on their home loans declined considerably in the first quarter of the year, and now stand at levels not seen in years.
The delinquency rate on home loans for properties of between one and four units fell to 7.4 percent of all outstanding loans in the first quarter of the year, down from 7.58 percent in the fourth quarter of 2011, and 8.32 percent in the same period last year, according to the latest statistics from the Mortgage Bankers Association. While declines are traditionally viewed in the first quarter of every year, the MBA's data shows that the drops this year were more significant than traditional adjustments would have predicted, showing that the declines are real, rather than the result of seasonal norms.
"Newer delinquencies, loans one payment past due as of March 31, are down to the lowest level since the middle of 2007, indicating fewer new problems we will need to deal with in the future," said Michael Fratantoni, the MBA's vice president of research and economics. "The percentage of loans three payments or more past due, the loans that represent the backlog of problems that still need to be handled, is down to the lowest level since the end of 2008. Foreclosure starts are at their lowest level since the end of 2007."
Delinquency fell for all types of mortgages except VA loans on a quarter-over-quarter basis, the report said. Prime fixed rate loan delinquency now stands at 4.07 percent, and late payments for prime adjustable-rate mortgages dropped to 9.05 percent, down from 9.22 percent in the fourth quarter. Further, loans backed by the Federal Housing Administration also saw drops in delinquency, falling to 12 percent from 12.36 percent a quarter earlier. The rate of homes that were in foreclosure increased on a quarterly basis, however, rising to 4.39 percent.
As the economy continues to generally improve, consumers are finding themselves in a better position to pay off all their outstanding debts on time. Factors such as declining unemployment rates and rising salaries have contributed to Americans feeling better about their personal financial situations. Experts believe that these trends will likely continue for some time, meaning that the housing industry may continue to improve, encouraging more qualified buyers to enter the market.
Source: Credit.com (http://s.tt/1cf6x)